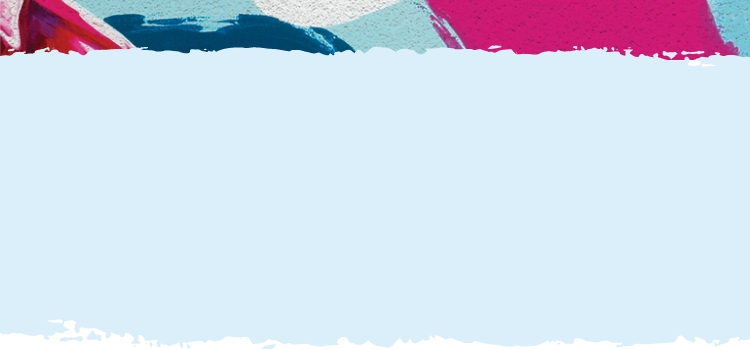 Helpful resources
Patient downloads to support your
treatment journey
To help you start and stay on treatment with Elfabrio, we're offering the following educational resources. You can download or print them for handy reference.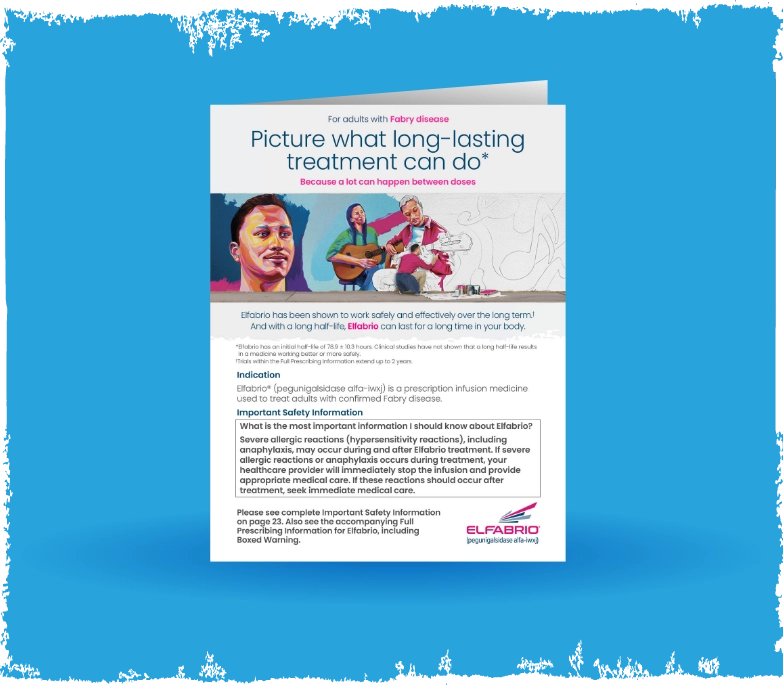 Patient Brochure
This brochure can help you learn about Fabry, Elfabrio, and how to get ongoing support.
Download brochure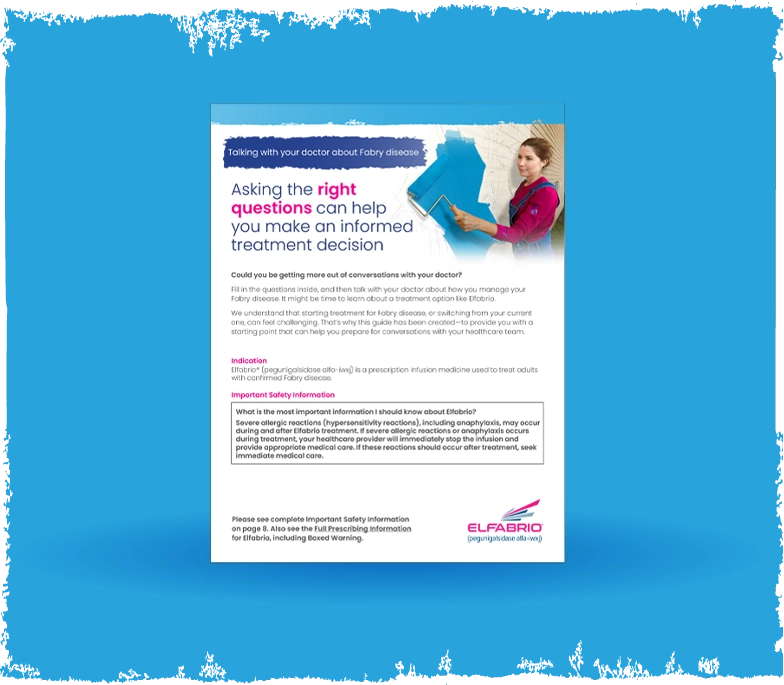 Doctor Discussion Guide
Whether you're a patient or caregiver, this guide offers questions to help you talk to your doctor about Elfabrio.
Download guide
Fabry glossary
The following terms are used throughout this website. Use these definitions to gain a better understanding of your Fabry disease and treatment.
anaphylaxis (a-nuh-fuh-lak-sis): This is a serious and potentially fatal allergic reaction with a variety of signs and symptoms that often require immediate medical attention on-site and in the emergency room.
anti-drug antibodies, or ADAs: ADAs may develop when your immune system reacts to a drug, causing your body to produce antibodies against ("anti") the drug. ADAs have the potential to affect how well a drug works in your body.
enzyme replacement therapy, or ERT: ERT is a medical treatment that replaces an enzyme in your body that is working improperly or missing. Elfabrio is an ERT. Learn more about how Elfabrio works.
estimated glomerular (gluh-mare-yuh-ler) filtration rate, or eGFR: eGFR is a test that measures your level of kidney function. It helps determine your stage of kidney disease.
Fabry crises (cry-sees): Many people with Fabry disease experience Fabry crises, which are episodes of severe pain, fever, and burning sensations that usually occur in the hands and feet. These crises can last between a few hours to several days.
half-life*: The half-life of a treatment is how long it takes for the amount of the medicine in your body to decrease by half. A long half-life lets your doctors know that the medication in your body is measurable from infusion to infusion. Learn more about how Elfabrio works.
PEGylation (peg-eh-lay-shun) or a PEGylated medicine: This means that a chemical compound called PEG, or polyethylene glycol, has been attached to the drug. That process is called PEGylation, and it can give treatments a longer half-life.* Elfabrio is a PEGylated medicine. Learn more about how Elfabrio was designed.
premedications/pretreatments: These are medications such as antihistamines, fever reducers, and/or corticosteroids that your doctor may have you take before your infusion starts. They help to manage the side effects or reactions you may experience from your medication or the infusion. Learn more about maintenance infusions with Elfabrio.
| | |
| --- | --- |
| * | Elfabrio has an initial half-life of 78.9 ± 10.3 hours. Clinical studies have not shown that a long half-life results in a medicine working better or more safely. Infusions are every 2 weeks. |
Understanding the roles of your healthcare team
Fabry disease can affect many different parts of your body. Your healthcare team will most likely include several specialists—all working together to help you manage your Fabry disease: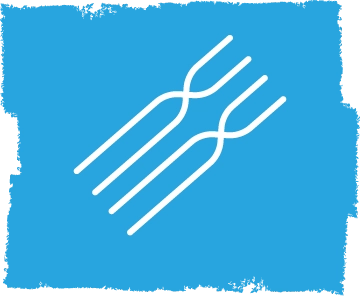 Geneticist
Fabry is a genetic disease, meaning it may be passed from parent to child. Your geneticist will conduct genetic testing to help search for clues in your DNA and find out if others in your family may also have Fabry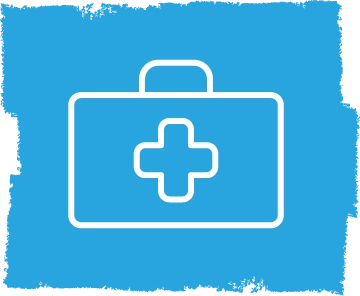 Primary Care Provider
Your primary care provider will check your overall health and help direct you to the right specialists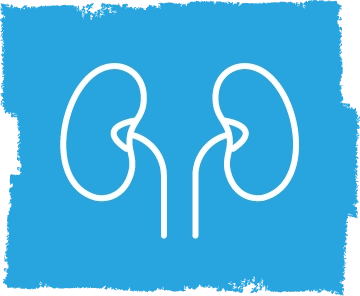 Nephrologist
Your nephrologist checks how well your kidneys are working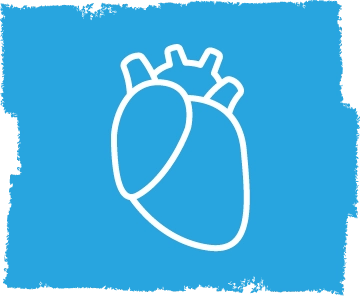 Cardiologist
Your cardiologist will check your heart. They will monitor your blood pressure and any heartbeat irregularities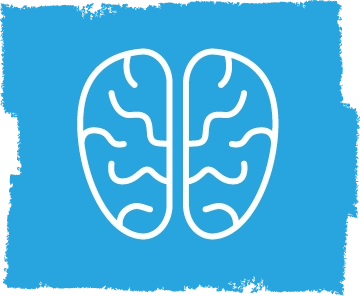 Neurologist
Your neurologist will help you manage any pain or sweating problems related to the nervous system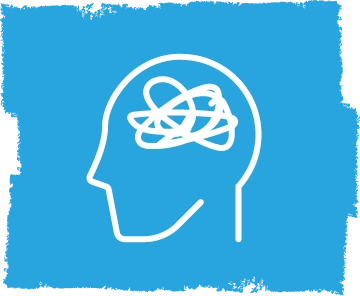 Psychologist
A psychologist can help with depression, anxiety, and other mental health concerns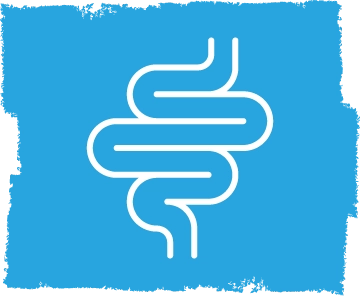 Gastroenterologist
Your gastroenterologist will help you with stomach and digestive system issues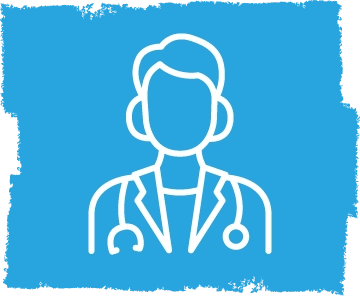 Other Specialists
Other specialists may be consulted for other areas and issues you face with those areas